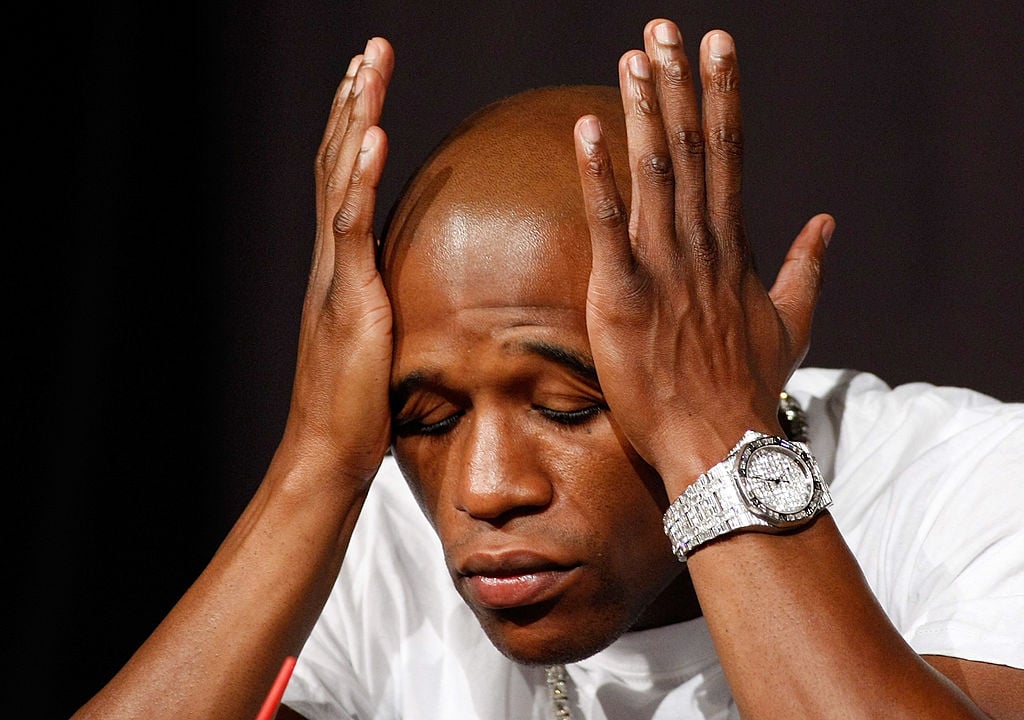 Boxer Floyd Mayweather reportedly owes the IRS a ton of money. Earlier today it was revealed that a federal lien has been filed against the boxer demanding $22.2 million in taxes related to his 2015 income. That was the year Mayweather earned his biggest payday ever, roughly $200 million, from his fight against Manny Pacquiao. If you want to be specific, the IRS claims that he owes $22,238,255. If that's not crazy enough, Floyd claims he doesn't have enough liquid cash to cover the debt. That's somewhat shocking considering Floyd has a net worth of $400 million and has earned $700 million during his career.
The tax lien shows the balance unpaid as of March 6, 2017. Now let's be clear here, the IRS just doesn't go out and file a lien – they spend considerable time, sometimes years, attempting to collect the tax debt before they take that step. The lien was filed with Clark County officials in Las Vegas in April. Here is the paperwork: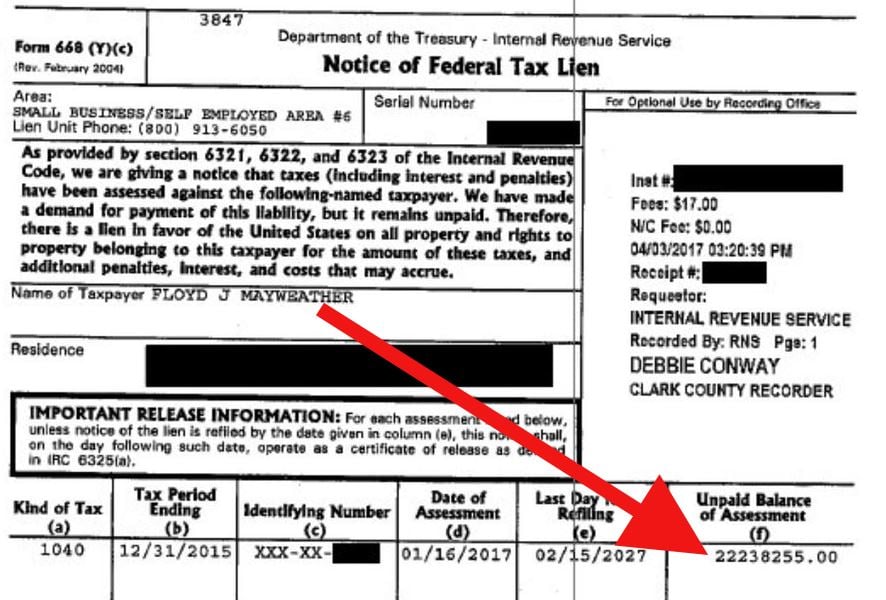 This new lien is just the latest in a series of tax liens the IRS has filed against Mayweather over the past 10 years. It comes as the boxer gets ready to come out of retirement to take on MMA fighter Conor McGregor in August.On July 5, Mayweather's team filed paperwork in Nevada court requesting a reprieve from paying the debt until AFTER the McGregor fight. The reason he needs a reprieve? Apparently Floyd does not have enough liquid cash on hand to pay the debt.The IRS had previously argued that Mayweather has the assets and wealth to pay the debt immediately and therefore they do not want to wait even just a few weeks.In response, Floyd's petition explained:

"Although the taxpayer has substantial assets, those assets are restricted and primarily illiquid. The taxpayer has a significant liquidity event scheduled in about 60 days from which he intends to pay the balance of the 2015 tax liability due and outstanding."

On Instagram, Mayweather was quick to put out his version of the story:
"Believe half of what you see and none of what you hear, especially when it comes to media in this country. While everyone is counting my money and assuming the worst, these are the facts… Uncle Sam, received $26,000,000.00 from me in 2015! What else could they possibly want? I'm sure I would have been notified much sooner if there were any real discrepancies right? Bottom line, everybody just wants to be a part of the "Money May" show, including the IRS! That's fine, you can crunch numbers all day but in the end, my empire is rock solid and intact! Now Calculate That! "Mayweather is set to appear at a news conference in Los Angeles to promote the McGregor match. There will be four total promotions of the fight this week.

Time will tell if tax drama will overshadow the promotion of the McGregor fight.If he does end up owing $22 million to the IRS, he's expected to make well north of $100 million off the McGregor fight, so he should be MUCH more liquid in August. I wonder what the penalties are on $22 million worth of IRS debt.share this post.

Source